I made a kit for friends and comrades to co-create their own food forest worlds, due to interest in the Food Forest Futures installation at the Robert Frost Stone House in North Bennington, Vermont (see also this post about the installation). This is the preliminary kit, and I hope to keep adding information to it, so please check back! I am so excited that the artist and friend Azuré Keahi will be crafting with this kit at the New Nature Lab space and People's Health Sanctuary in Troy, New York this season (I'll also be co-creating medicine worlds in this space later in the summer as a way of complementing and supporting their radical vision and the amazing work happening there).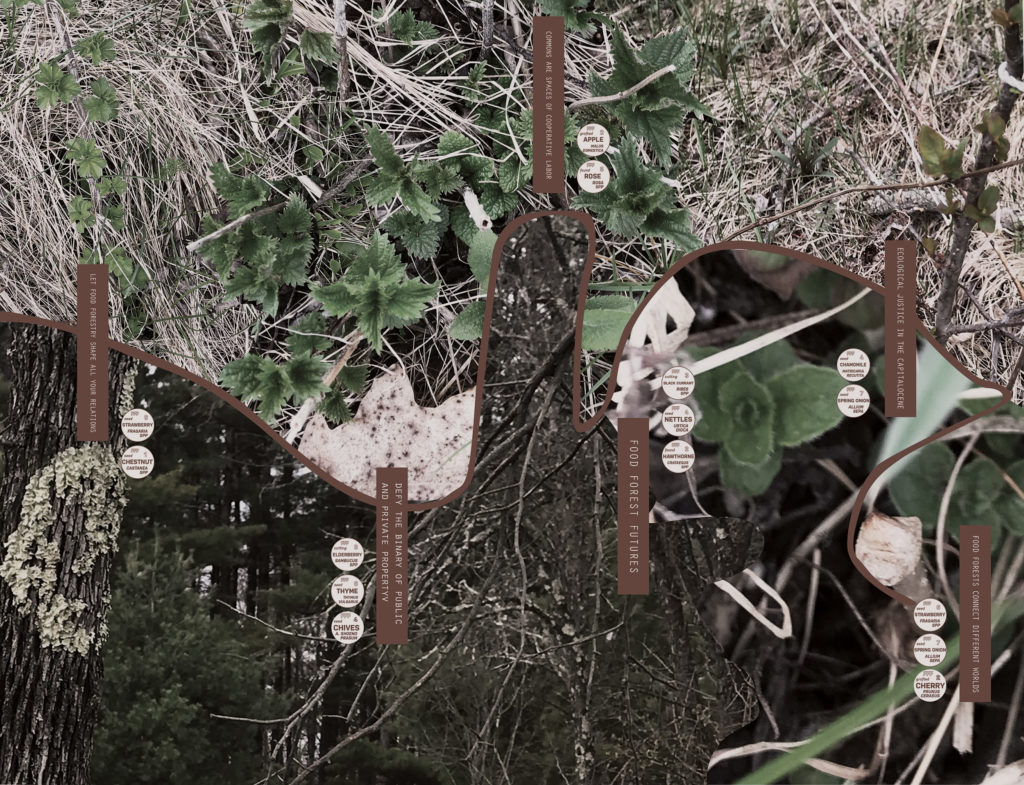 Introduction to the kit:
This is a collection of information and design documents meant as inspiration and resource for artists and activists who are engaged in the building of food forest and medicine forest worlds. Primarily, this kit offers design documents for signage, but I hope to continue add materials and information for plant design considerations.
History:
This kit emerges from the Food Forest Futures <https://www.foodforestfutures.net/> living installation that I did at the Robert Frost Stone House in North Bennington Vermont, as a part of the Bennington College Center for Public Action's Mellon Foundation Grant on Food Scarcity. Bennington College was awarded $1 million from the Mellon Foundation to launch a three-year collaborative effort with local partners to address the systemic causes of food insecurity in Bennington County. In 2021, at the invitation of Tatiana Abatemarco and Erin McKinney, I created a living installation, a manifesto, and tabloid publication to inaugurate their research.
Food Forest Futures draws from Indigenous, permaculture, and bio-intensive design strategies to introduce seven layers of a food forest, attract beneficial animals, microbes, and insects, and integrate plantings of beneficial, medicinal, edible plants. Rather than having one plant crop per row, plants are mixed together based on how they can help one another—through nutrients, structure, resistance to pests. These plant companions spark new understandings of how the cultivation of biodiverse food and habitat for our nonhuman kin simultaneously generates food and habitat for humans. Food Forest Futures recognizes differing opportunities for cultivating food forests, and hosted a number of events where participants connected to the Food Summit could choose combinations of plants, seeds, and associated reading materials on offer to continue commoning in backyard, community, or guerrilla / tactical contexts.
Food Forest Futures was instantiated on the traditional and unceded territories of the Abenaki.