The Coastal Reading Group scooped up soil, seeds and clay in Stockholm this week for UNDISCIPLINED ENVIRONMENTS: International Conference of the European Network of Political Ecology (ENTITLE).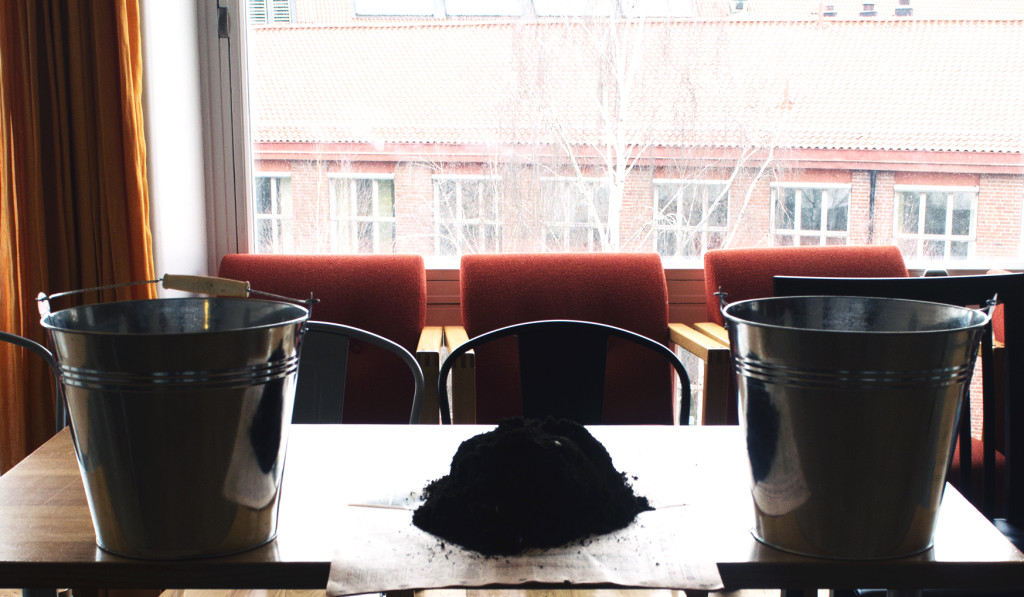 We culled from the texts we've been reading — texts about human constructions of and engagement with wilderness, nature and ethics — stripped them of punctuation and cut them into long pieces of printed text. We invited our visitors to treat this text as a finite resource, unearthing new meanings from it before adding this resource to the soil. We rolled these processed texts into seedballs, made of soil, clay, seeds and water.
We re-earthed the text-and-seedballs around the conference area and offered them to an urban commons project on the edge of legality in the southern part of Stockholm.
Recipe for Unearthing/ Re-earthing:
part one:
– choose 3-4 strips of paper
– these words are finite resources you can only use each word once
– cross words off as you use them
– reassemble and unearth meaning
part two:
– cut out the words and phrases you used
– add the cut out text to the bucket of seedball mixture, saying the words and phrases out loud as they drop into the soil
– you may alternate your texts with others'
Recipe for Seedballs:
– 5 parts dry clay (red is ideal)
– 3 parts dry organic compost or soil
– 1 part seed
– 1-2 parts water