At the end of October I was so pleased to give a 40 minute talk on Ruderal Witchcraft: a project in collaboration with the artist Oliver Kellhammer that considers of set of practices specific to planetary, weedy natures that work their way at edges and interstices of public and private property, and which are entangled with a range of other human and non-human outcasts of capitalist modernity. Active relationships with weedy, rapidly reproducing species that primarily operate in everyday spaces of disturbance give guerrilla gardeners, activists, artists, witches, and other practitioners concerned with the ongoing threats of the global Capitalocene new spatiotemporal opportunities for anti-capitalist magic, sabotage, and retreat. This was at the invitation of the ever-inspiring and visionary Kathy High.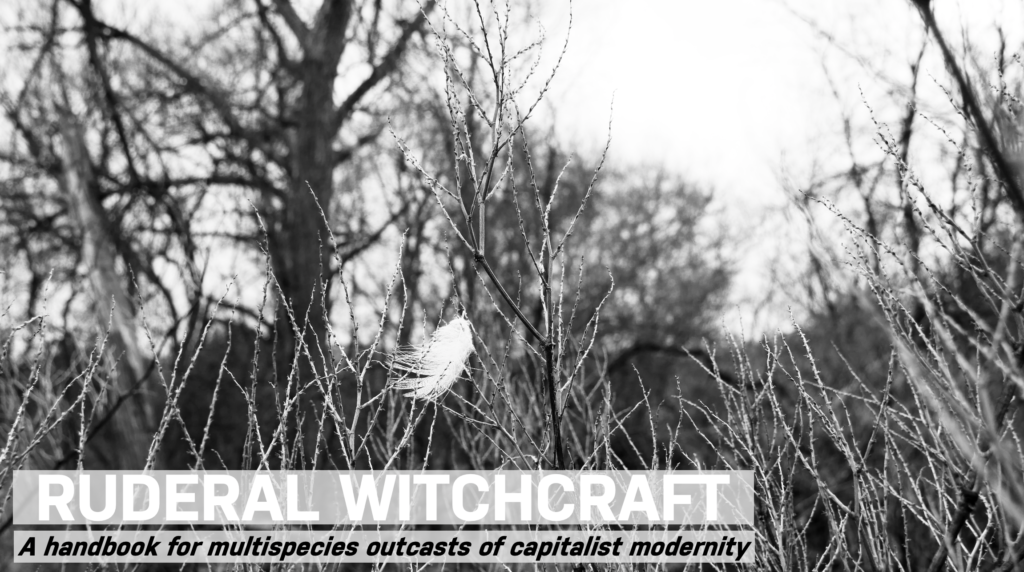 The Ruderal Ecologies 2 virtual conference builds upon the 2018 Ruderal Ecologies: Grounds for Change conference, which brought together thought leaders in art, science, and environmental justice to explore the history and future of urban environments shaped by stress. "Ruderal," from the Latin rudus (rubble), refers to plant species that are first to repopulate disturbed lands, an apt analogy for the state of our post-industrial neighborhoods. It is through this lens that we will envision our futures. Ruderal Ecologies 2 conference is a collaboration between the School of Humanities, Arts and Social Science, ARTS and STS departments, NATURE Lab and The Sanctuary for Independent Media, and the iEAR Presents series, supported by in part by a Humanities New York SHARP Grant with support from the National Endowment for the Humanities and the federal American Rescue Plan Act, and the Vollmer Fries Lecture Series at Rensselaer Polytechnic Institute. Media Alliance programs are made possible by the New York State Council on the Arts with the support of the Office of the Governor and the New York State Legislature.
Ruderal Ecologies 2 will once again bring together cutting-edge artists, social scientists, scholars, and activists learning and working beyond the barriers of any one discipline, and this time our work will be all-virtual, making it possible to present thinkers and host virtual audiences from all over the globe. Reflecting our commitment to curating a feminist framework into this conference, the majority of our presenters are women or gender non-conforming. We have also invited Indigenous authors, artists, and speakers, with the intention of embedding a variety of Indigenous ways of thinking, storytelling, and expression into conversations about our urban futures.